FACILITIES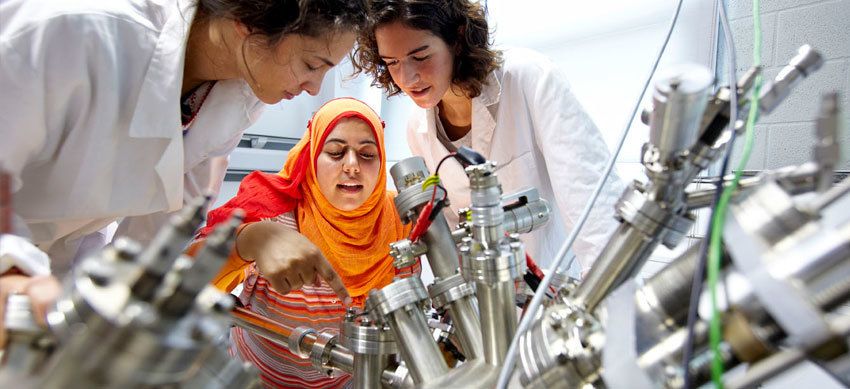 SINCE 2010, CFM HAS NEW HEADQUARTERS IN DONOSTIA-SAN SEBASTIAN
The whole building was designed with scientific research in mind, and offers state-of-the art facilities and spaces, where ideas can be exchanged, developed and put to the test. Letting alone the large amount of office space, the most relevant experimental set ups and computing facilities that can be found at CFM are:
ULTRA-LOW TEMPERATURE SCANNING TUNNELING MICROSCOPY LAB
A combined AFM/STM instrument capable of scanning atomic forces and tunneling current simultaneously at 1 K.
HIGH RESOLUTION ANGLE RESOLVED PHOTOEMISSION LAB
A combined ARPES/STM system with a double prep-chamber, which permits separate and joint ARPES/STM experiments. The ARPES chamber is an ultra-high resolution (0.1 degree, 5 meV) system, able of measuring solid samples down to 20 K.
SURFACE CHEMISTRY AND MAGNETISM LAB
Two separate STM/X Ray Photoemission (XPS) and STM/Magneto Optic Kerr Effect (MOKE) chambers for surface chemistry and surface magnetism experiments, respectively.
NANOPHOTONICS LAB
Scanning confocal time-resolved photoluminescence setup (MicroTime200, PicoQuant) providing single molecule sensitivity and high temporal resolution. Range of application includes Fluorescence Lifetime Imaging (FLIM), Fluorescence Correlation Spectroscopy (FCS), Forster Resonance Energy Transfer (FRET), Fluorescence Lifetime Measurements, Fluorescence Anisotropy and Intensity Time Traces.
SPECTROSCOPY TECHNIQUES
Spectroscopic equipment (Cary50, Varian) for measurement of energy transfer and conversion.
LASER SPECTROSCOPY LAB
Continuous and time-resolved (with nano-pico excitation laser sources) spectroscopies with high spectral resolution in the UV-VIS-IR domains together with low temperature facilities (2K). Home made photoacoustic spectrometer.
ULTRAFAST SPECTROSCOPY LAB
Tunable femtosecond sources (with regenerative amplification) in the IR domain with shigh speed detectors in the picosecond domain (Streak camera). Multiphoton microscope with time-resolved spectroscopic facilities.
MATERIAL SYNTHESIS LAB
Crystal growth facilities by using home made Bridgman and Czochralski fournaces.
DIELECTRIC SPECTROSCOPY LAB
Different frequency and time-domain spectrometers covering more than 16th orders of magnitude in frequency/time.
MOLECULAR SPECTROSCOPY TECHNIQUES
Infrared Spectrometer FT-IR, Terahertz Spectrometer.
MICROSCOPY LAB
Atomic Force Microscope (AFM), Optical/Confocal Microscope, Desktop Scanning Electron Microscope.
X-RAY LAB
Small Angle X-Ray Scattering (SAXS) technique: Rigaku PSAXS-L, Wide Angle X-Ray Scattering (WAXS) with the same instrument.
THERMAL ANALYSIS TECHNIQUES
Differential Scanning Calorimetry (DSC), Pressure-Volume-Temperature (PVT), Thermogravimetric Analysis (TGA), Dilatometry (DIL).
MECHANICAL CHARACTERIZATION TECHNIQUES
Rheometry with simultaneous electric impedance analysis, Miniature Material Tester.
CHEMISTRY LAB
Different techniques oriented to Polymer Synthesis and Click-Chemistry.
COMPUTING FACILITIES
Two High Performance Computing clusters adding up a total of 2088 computing cores and 6TB of memory, 72TB of shared, replicated, storage space, as well as a variety of workstations for small calculations and software development.