PHD PROGRAM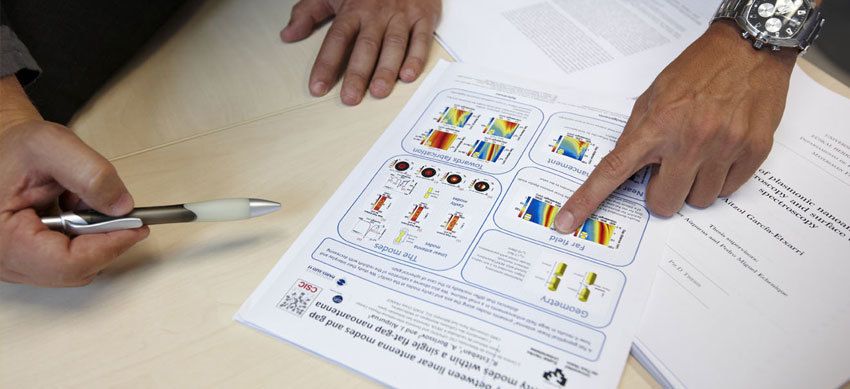 Physics of Nanostructures and Advanced Materials (PNAM) is one of the Ph.D. programs offered by the University of the Basque Country UPV/EHU. It has been recognized by the Spanish Ministry of Education as a highly-qualified PhD Program (Mención hacia la excelencia MEE2011-0591).
It is intended for students with a background in Physics, Chemistry, Material Science and related topics, after completing a master's program (or equivalent degree). The interested students must apply for the pre-registration in the PhD program (two calls each academic year, in September and April respectively), see more in: https://www.ehu.eus/en/web/mde/doktorego-izena-ematea-onarpena
The Center of Material Physics (or CFM is a joint center betweem the Spanish Research Agency, CSIC, and the University, UPV/EHU), and/or the Material Physics Department belong to this PhD program. Students are required to enroll in order to obtain their doctoral degrees.
The Ph.D. program extends over three years and is mostly devoted to research. At the end of this period, a Ph.D. thesis has to be submitted and defended at the UPV/EHU in order to obtain the official (Spanish) Ph.D. degree by the UPV/EHU. Only after explicit application for an extension, and subject to approval, can Ph.D. programs be extended over the 3-year limit.
Most of the Ph.D. theses within this program meet the requirements for obtaining the "International Ph.D." distinction. Please, check the actual requirements in https://www.ehu.eus/en/web/estudiosdeposgrado-graduondokoikasketak/-/normativa-doctorado-capitulo-vi
Research lines involved in the Ph.D. Program:
The research groups responsible of the PNAM Ph.D. program are those belonging to the CFM. The main research lines of these groups are:
Magnetism of micro/nano-crystalline materials
In addition, other research lines related with the applications of nanomaterials and nanotechnology, as those developed in several technological centers in the surrondings, are also considered. The connection between the various technological centers and the PNAM Ph.D. program is coordinated by the research center CIC Nanogune.
Finally, the PNAM Ph.D. program is a part of the "Physics and Chemistry of Advanced Materials" European Doctorate, opening the possibility of developing the Ph.D. thesis work in close collaboration with any of the involved research groups.
More information below:
PHD PROGRAM