GOVERNANCE AND PARTNERSHIP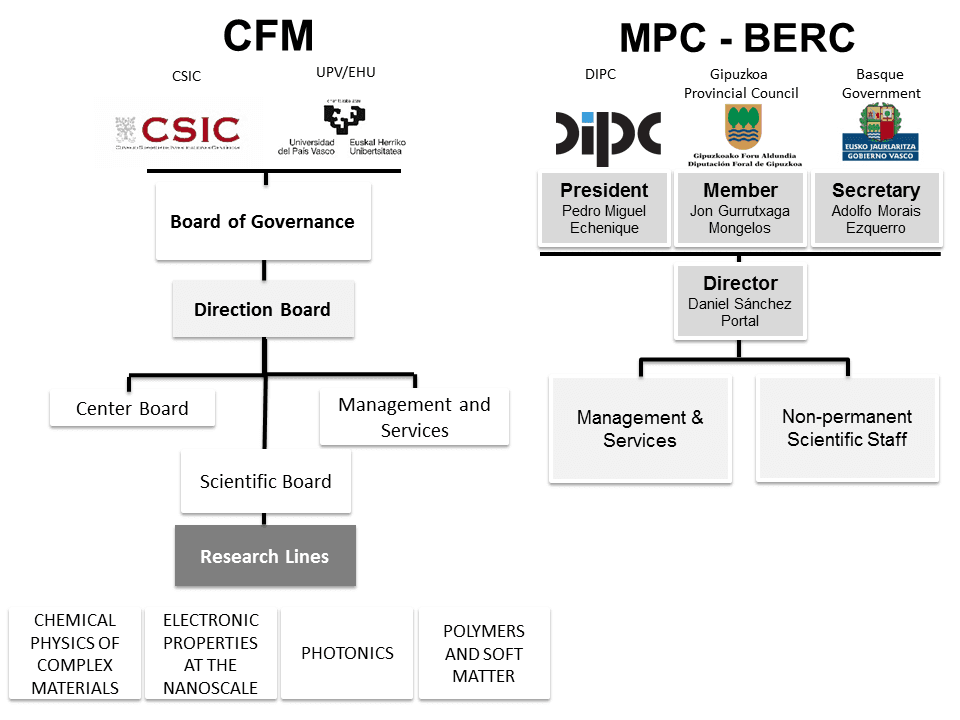 CURRENT DIRECTION BOARD OF CFM
SCIENTIFIC BOARD OF CFM
All scientific permanent staff of CFM participate in the Scientific Board. The board is thus made of UPV/EHU staff, CSIC staff, as well as Ikerbasque staff.
CENTER BOARD OF CFM
Members of this board include the full direction board, the coordinators of each of the four research lines of the center, two representatives of the scientific personnel of the CFM, as well as one representative of the "Services and management" section.
Centro de Física de Materiales (CFM) is a joint centre of the Spanish Consejo Superior de Investigaciones Científicas  (CSIC) and the University of the Basque Country (UPV/EHU). The main Board of Governance of the Centre is constituted by the Governing Board where representatives from both CSIC and UPV/EHU designate a Direction Board which runs the daily ad- ministrative and scientific strategy of the Centre. To that end the Direction board is supported by the Centre's Board and the Scientific Board.
The Association "Materials Physics Center" MPC is a non-profit association declared as Basic Excellence Research Center (BERC) which is intrinsically united to, and shares goals and scientific activity with CFM, serving as an instrumental body of activity in a to- tally synergistic and combined activity. The body of governance of the BERC MPC is constituted by the Basque Government (GV), the Gipuzkoa Province Government (Gipuzkoako Foru Aldundia), and the Donostia International Physics Center (DIPC), who appoints the scientific director of the association. The combined and united strategic activity of both CFM-MPC is ensured by the joint appointment of the same per- son as director of both institutional bodies.
CFM KEEPS STRONG LINKS WITH OTHER LOCAL RESEARCH CENTERS SUCH AS…