Bueltan da Pint of Science!
Bueltan da Pint of Science mundu osoko tabernetara! Eta nola ez, Donostiara



Pandemiaren ondoren, Pint of Science-ren 7. edizioa tabernetara itzuli da markak hautsiz: 335 hitzaldi emango dira 183 ekitalditan, 62 tabernatan, 372 hizlarik (166 emakume zientzialari) eta 200 boluntario baino gehiagok parte hartu dute antolaketan.
Pint of Science jaialdia 2022ko maiatzaren 9tik (astelehena) maiatzaren 11ra (asteazkena) egingo da aldi berean, munduko hainbat herrialdetan eta herrialdeko hainbat hiritan, eta puntako ikertzaileak gonbidatzen ditu beren ezagutzak zurekin partekatzera, giro lasai batean: tabernan.
Donostiaren kasuan, jaialdiak Mala Gissona, La Cofradía Vasca de Gastronomía, Alboka Bar eta BeerSS Zurriola Beach hartuko ditu bere hitzaldi entretenigarriekin, ezagutza eta dibertsioa partekatuz.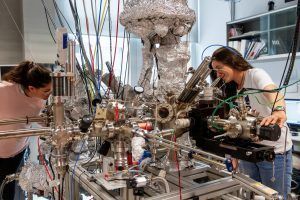 CFMren aldetik, ekitaldi hau sustatu eta zabaltzen laguntzeaz gain, Carmen Gonzalez Orellanak eta Marina Peña Díazek parte hartuko dute, "Bidaiarik txikiena: nanomundua aurkituz" izeneko hitzaldiarekin.
Hitzordua duzue zientziarekin tabernetan, zuen zain gaude!
Twitterren eta Instagramen jarrai dezakezu ekitaldia: @pintofscienceES
8 urte zientzia zabaltzen
Pos 2013ko maiatzean jaio zen Londresko Imperial Collegen, Michael Mostkin eta Praveen Paul ikertzaileek laborategietan ekitaldi bat antolatu zutenean, gaixotasun mental desberdinek jotako pertsonei egiten zieten ikerketa erakusteko. Oso ekitaldi inspiratzailea izan zen. Ikertzaileek pentsatu zuten jendeak laborategietan sartu nahi bazuen zientzialariak ezagutzeko, zergatik ez eraman jendea zegoen tokira? Eta horrela jaio zen Pos, dio Rafael Martínezek, jaialdiaren azken edizioko hirugarren koordinatzaile nazionalak.
Ideia hori laster errepikatu zen beste herrialde batzuetan, 2015ean Espainiako PoSen 1. edizioa egin zen arte. Ekitaldian 136 ikertzailek parte hartu zuten hizlari gisa 8 hiritako 25 tabernatan. Harrezkero, jaialdiak etengabe egin du gora.