CFM at the Elhuyar Zientzia Azoka
The 10th edition of Elhuyar Zientzia Azoka showed 200 projects developed by young students during the course and several professional scientific stands, where researchers from the CFM and POLYMAT participated under the moto "With hands on materials".
✓ This tenth edition of Elhuyar Zientzia Azoka spanned four days, from June 2 to 5, and took place at the Arenal in Bilbao.
✓ 200 projects elaborated by students between 12 and 18 years old throughout the course were exhibited, and there were also workshops, experiments, science stands and science shows.
✓ The awards consisted of stays in research companies and research centers such as the CFM, study grants and trips to national and international fairs.
Bilbao's Arenal hosted 200 STEAM projects that students had developed during the course, as well as workshops, professional science stands, experiments and science shows. A total of 716 young people (405 girls and 311 boys) from 54 schools participated in this edition.
The aim of Elhuyar Zientzia Azoka is to encourage young people's interest in science, as well as to promote and disseminate scientific culture, not only in this fair, but also throughout the year.
In Zientzia Azoka, in addition to the students, research professionals, who have been present to show their research projects in Bilbao's Arenal, participated: UPV/EHU, University of Deusto, Mondragon Unibertsitatea, CFM, Polymat, TECNALIA and BC Materials. The CFM in collaboration with POLYMAT attended with a scientific stand where the principles of physics of materials were exposed in an entertaining and understandable way for all audiences. Claudia Borredon, predoctoral researcher at the CFM in the group Polymers and Soft materials, showed the work she does in Machine Learning performing an on-site demonstration in which the attendees could participate. Victor Krivenkov and Rubén Pellicer Guridi, postdoctoral researchers in the area of photonics at the CFM, dazzled with different samples of nanoparticles and explained their behavior in the presence of ultraviolet light.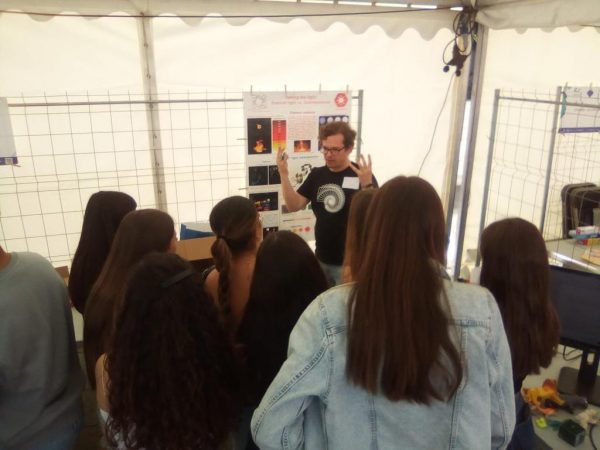 In addition, it is worth mentioning the collaboration with research centers and universities in the Basque Country in mentoring the projects developed by the students. At the beginning of the academic year, 218 researchers (199 women) from universities and technology centers signed up to work with the students, showing their commitment to the project.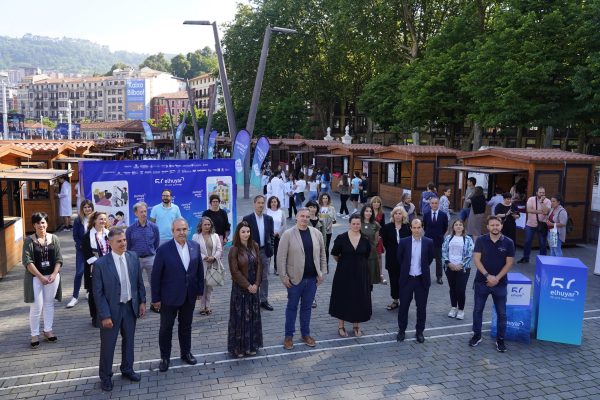 The science fair has turned 10 years old and coincides with the celebration of Elhuyar's 50th anniversary. From its first edition in 2013 to date, nearly 6,000 students between the ages of 12 and 18 have participated in the Elhuyar Zientzia Azoka. A total of 900 research projects or technological projects have been carried out, of which nearly 700 have been presented at Elhuyar Zientzia Azoka in Bilbao.
The Zientzia Azoka initiative, organized by Elhuyar, has the collaboration of the Department of Education of the Basque Government, the FECYT (Spanish Foundation for Science and Technology), the Provincial Council of Bizkaia, the City Council of Bilbao, the Government of Navarra and Erabi.