Javier Aizpurua enters the list of Highly Cited Researchers
The highly-cited researchers' list for 2017 was released on Nov. 16th. The leader of the "Theory of Nanophotonics group" at CFM and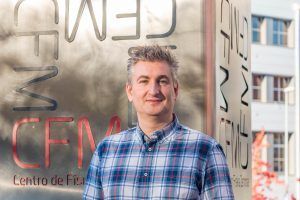 DIPC in San Sebastian, Javier Aizpurua, has been included as a member of it for the first time. Javier combines his research career with the scientific direction of CFM.
Highly-cited researchers are acknowledged by the number of highly-cited papers (in the top 1%) within an area, according to the database of "Web of Science" over an eleven year period. Javier Aizpurua is one of the five physicists working in Spain and one of the only two researchers in the Basque Country, who has been acknowledged with this distinction.
Inclusion in the Clarivate highly cited researchers list is a measure of the value of the work done by those researchers and the extent to which they have inspired or challenge other researchers.
Javier says that he is happy for this, but he also acknowledges all his collaborators in his group and internationally through these years, as well as the San Sebastian environment of excellence as big enablers of the impact he achieved in the international community of Nanophotonics.
Congratulations Javier!
See the full report here