PINT OF SCIENCE IS BACK!!
Pint of Science returns to bars all over the world! And of course, to Donostia /San Sebastián.
After the pandemic, the 7th edition of Pint of Science returns to the bars breaking records: 335 talks spread over 183 events, in 62 bars, with the participation of 372 speakers (166 women scientists) and more than 200 volunteers in the organization.
The Pint of Science festival will take place from Monday, May 9 to Wednesday, May 11, 2022. It will be held simultaneously in several countries around the world and in several cities of the country and invites leading researchers to share their knowledge with you in a relaxed and relaxed atmosphere: the bar.
In the case of Donostia / San Sebastian, the festival will take over the Mala Gissona, La Cofradía Vasca de Gastronomía, Alboka Bar and BeerSS Zurriola Beach with their entertaining talks, sharing both knowledge and fun.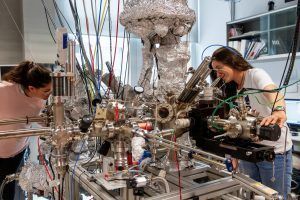 On behalf of the CFM, in addition to sponsoring this event and collaborating in its dissemination, the 11th of May at 19:00 at Mala Gissona,  Carmen Gonzalez Orellana and Marina Peña Díaz will participate with a talk entitled "The smallest trip: discovering the nanoworld" inside of the event "A matter of size".
You have an appointment with science in the bars, we are waiting for you!
You can follow it on Twitter and Instagram:
@DivulgaDonosti @pintofscienceES
8 years disseminating science
PoS was born in May 2013 at Imperial College London, when researchers Michael Mostkin and Praveen Paul organized an event in their labs in order to showcase the research they were doing to people affected by various mental illnesses. "It was a very inspiring event. The researchers thought, if people wanted to come into the labs to meet the scientists, why not bring them to where the people were? And so PoS was born," says Rafael Martinez, the third national coordinator of the last edition of the festival.
The idea was soon replicated in other countries until 2015 saw the 1st edition of PoS in Spain. The event featured 136 researchers as speakers in 25 bars in 8 cities. Since then, the festival has not stopped growing.