EXTERNAL SERVICES
CFM offers external services based on the centre equipment and infrastructure to academic and industrial users. External services are open facilities carried out by CFM qualified researchers and technicians for researchers and technologists from different research fields and businesses. The CFM external services that can be commissioned are as follows:
Differential Thermal Analysis (DTA)
The Service offers the thermal characterisation of materials by means of differential scanning calorimetry technique, using a Flash Differential Scanning Calorimeter (180 – 700 K) from Mettler Toledo.
ISOBARIC THERMAL EXPANSION
The Service offers the characterisation of polymer and soft matter samples by means of dilatometry and PVT measuring system, using a L75V (100 – 800 K) from Linseis, and a pvT100 (200 – 550 K, 200 – 2500 Bar) from Thermo Haake, respectively.
ABSORPTION SPECTROSCOPY IN Terahertz (THz) DOMAIN
The service offers the molecular characterisation of samples by means of molecular spectroscopy in the THz domain, using a Terahertz spectrometer, TPS SPECTRA 3000 from TeraView.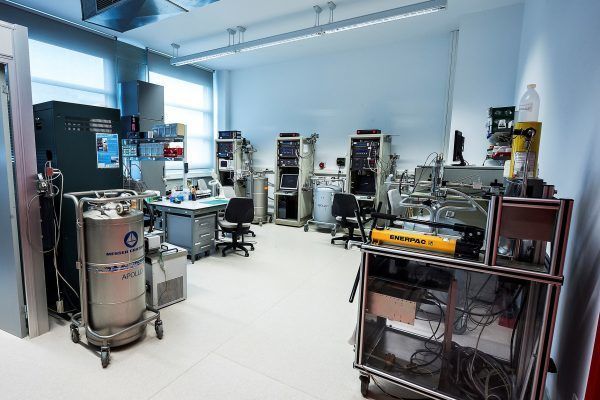 DIELECTRIC CHARACTERISATION
The service offers the characterisation of dielectric properties of materials by means of a Broadband Dielectric Spectrometer (BDS) from ALPHA Novocontrol.

small-angle X-ray diffraction
The service offers the structural characterisation of materials by means of Small-angle X-ray scattering (SAXS) technique, using a Rigaku PSAXS-L (120 – 520 K) SAXS instrument that enables simultaneous Wide Angle X-ray Scattering (WASX) measurements.
Materials surface characterisation
The service offers the surface characterisation of materials by means of X-ray Photoelectron Spectroscopy (XPS), Ultraviolet Photoemission Spectroscopy (UPS), Atomic Force Microscopy (AFM) and Scanning Tunnel microscopy (STM) techniques, either combined or separately.
NANOPHOTONICS LAB
The service offers time- resolved Photoluminescence (TRPL) measurements of materials using a MicroTime200 setup from PicoQuant that provides single molecule sensitivity and high temporal resolution.
High-performance (HPC) computing services and consulting
The Service offers technical support and consulting for design, implementation, installation and optimization of software for high performance computing applications.
Scientific advice in modelling, computing and simulation
The Service offers technical support and consulting in design, implementation and realization of simulation, modelling and computing in the domain of Materials Sciences (electronic structure techniques, classical and semiclassical models, molecular dynamics, Monte-Carlo, etc)