LEARNING FROM DISORDER – A TRIBUTE TO ALAN SOPER
Molecular Physics 117, 3195 (2019)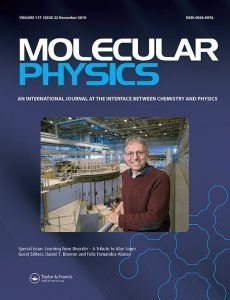 This special issue of Molecular Physics celebrates the prolific scientific career of Dr Alan Soper FRS, a life-long endeavor focused on the development and subsequent use of state-of-the-art neutron-scattering instrumentation and associated computational methods to study disordered matter in the broadest sense of the word.
The nearly thirty contributions contained therein provide an up-to-date cross-section of current research efforts around the globe, including new insights into the structure and dynamics of aqueous media, experimental and computational developments to treat nuclear quantum effects and the associated ´quantum disorder,´ or the application of these new and emerging methodologies to tackle complex supramolecular materials like metal-organic frameworks or carbon-based nanostructures.
This special issue has been co-edited by Félix Fernández Alonso, who has recently joined the Materials Physics Center as Ikerbasque Research Professor. It also contains contributions from Sylvina Cerveny (CFM) and Fabienne Barroso Bujans (DIPC).
Happy reading!