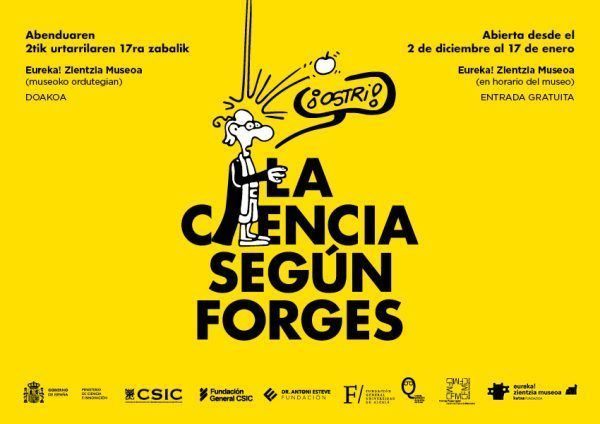 Do you want to get the catalog of the expo?
Subscribe to CFM NEWS letter here and you will participate in the draw for one!
We just send the cool things 😉
The Center for Materials Physics (CFM), in collaboration with Eureka! Zientzia Museoa, presents "Science According to Forges", a unique opportunity to enjoy the exhibition produced by the Spanish National Research Council (CSIC) in homage to the great Antonio Fraguas.
66 vignettes make up an exhibition that has travelled all over Spain and will be on display exclusively in the Basque Country, open free of charge in Eureka! Zientzia Museoa, Donostia – San Sebastian, from December 2nd to January 17th.
FREE ENTRANCE
December 2 (13:00)- January 17
Time to laugh
Climate change, the discovery of the Higgs boson and the loss of biodiversity are some of the themes that the cartoonist Antonio Fraguas 'Forges' has repeatedly portrayed in his vignettes. Also the claim for more resources for a quality Spanish science occupied his drawings and texts. On the occasion of its 80th anniversary, the Consejo Superior de Investigaciones Científicas (CSIC) produced an exhibition that gathers a selection of cartoonist's vignettes, which focus on science and technology.
The exhibition, which is accompanied by a catalog, has been on tour throughout 2020 in the CSIC's delegations and dissemination centers throughout Spain. Science according to Forges' has been produced by the Deputy Vice President of Scientific Culture of the CSIC and has the collaboration of the Fundación General CSIC through the call for aid 'Account for Science', as well as with the support of the Dr. Antoni Esteve Foundation and the Quevedo Institute of the Arts of Humor, belonging to the Fundación General Universidad de Alcalá.
It arrives to Donostia / San Sebastian by the hand of the Center for Physics of Materials, in collaboration with Eureka! Zientzia Museoa, where it will remain open to the public free of charge from December 2, 2020 until January 17, 2021.
PRODUCED BY


ORGANIZED IN DONOSTIA/SAN SEBASTIAN BY