POLYMERS AND SOFT MATTER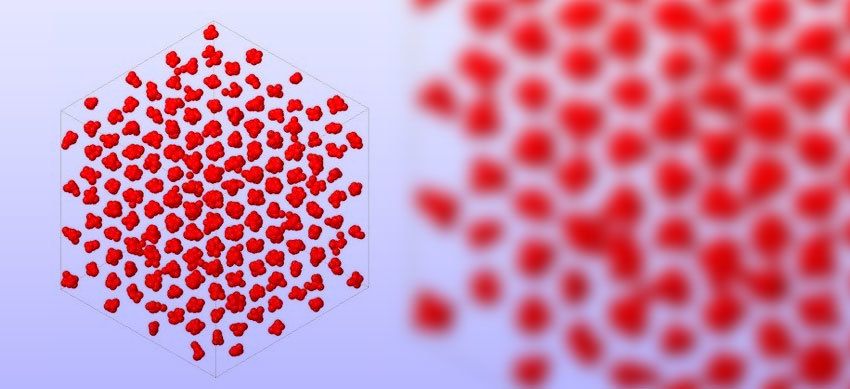 The research line "Polymers and Soft Matter" focuses on the experimental and theoretical study of materials composed of polymers and condensed soft matter. This activity mainly studies the structure and dynamics of polymers and complex glass forming systems (multicomponent materials, nanostructures and biopolymers), in general, at different time and duration scales (micro, nano, meso, macro). The methodological approach developed to address this line of research is based on a combination of relaxation techniques, neutron and X-ray scattering, microscopy techniques and molecular dynamics simulations. A combination of experimental, theoretical and simulation efforts, together with the development of advanced chemical synthesis pathways, is essential to advance in this interdisciplinary field. A group of scientists belonging to the CSIC, the UPV/EHU and Ikerbasque develop the different aspects of this compact research line.
THE RESEARCH GROUPS
POLYMERS AND SOFT MATTER
In recent years, the specific objectives of the research activity of this group have been as follows:
Understanding of the interaction of geometry and topology in polymeric materials.
Characterisation of interfacial features.
Study of interfacial dynamics, new confinement effects and the way local friction arises in crowded environments.
The experimental effort that covers these objectives is developed in a set of laboratories of the center equipped with diverse techniques of microscopy and spectroscopy. Among others, a scanning electron microscope, dielectric spectrometers and a low-angle X-ray diffraction spectrometer that are located in the center and are directed by one of the members of the research group, giving service to the research community.
An important aspect of this activity is the strong connection with private companies, which contract the group's services to study and characterize particular forms of soft matter, such as rubber. Contracts with Good-Year or Michelin are good examples of this activity.
MORE INFORMATION
QUANTUM BEAMS AND SUSTAINABLE MATERIALS
The "Quantum Beams and Sustainable Materials" group makes extensive use of beams of quantum particles like neutrons or photons in tandem with computational materials modelling to interrogate, understand, and design novel functional materials for energy applications and sustainability. This research program is underpinned by the development of new techniques and methodologies for materials discovery, in close collaboration with leading neutron and X-ray laboratories from around the globe. Current areas of focus include hybrid organic-inorganic materials for photovoltaics & photonics, or carbon-based nanostructured media for the storage of chemical and thermal energy.
RESEARCH FACILITIES
DIELECTRIC SPECTROSCOPY LAB
Different frequency and time-domain spectrometers covering more than 16th orders of magnitude in frequency/time.
MOLECULAR SPECTROSCOPY TECHNIQUES
Infrared Spectrometer FT-IR, Terahertz Spectrometer.
MICROSCOPY LAB
Atomic Force Microscope (AFM), Optical/Confocal Microscope, Desktop Scanning Electron Microscope.
X-RAY LAB
Small Angle X-Ray Scattering (SAXS) technique: Rigaku PSAXS-L with simultaneous Wide Angle X-Ray Scattering (WAXS) option, Wide Angle X-Ray Scattering (WAXS) technique: Bruker AXS D8 ADVANCE.
THERMAL ANALYSIS TECHNIQUES
Differential Scanning Calorimetry (DSC), Pressure-Volume-Temperature (PVT), Thermogravimetric Analysis (TGA), Dilatometry (DIL).
MECHANICAL CHARACTERIZATION TECHNIQUES
Rheometry with simultaneous electric impedance analysis Miniature Material Tester.
CHEMISTRY LAB
Different techniques oriented to Polymer Synthesis and Click-Chemistry.
TECHNIQUES FREQUENTLY USED IN LARGE SCALE FACILITIES
Inelastic and Quasielastic Neutron Scattering, X-ray Scattering by Synchrotron Radiation.
COMPUTING FACILITIES FOR MOLECULAR DYNAMICS (MD) SIMULATIONS
Several computing clusters at CFM and other institutions (like DIPC) under collaborative research, Software for atomistic and coarse-grained MD-simulations.